We are a community that succeeds, and our Cambridge and Pearson IGCSE results are proof of that!
St Andrews proudly congratulates our students on their IGCSE results for 2023. We have maintained our 100% pass rate and we celebrate excellent achievements at both Grade C and above and Grade A and above. These results would not have been possible without the incredible efforts of our students and superb support of our teachers. Well done to all!
100% pass rate
30% attainted A and A* (9-7)
82% C+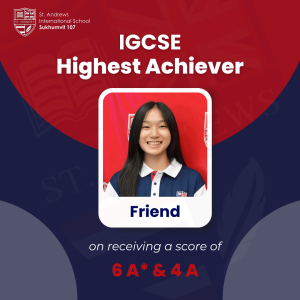 \Big congratulations to Friend for her outstanding success in their IGCSE results and achieving the best in the year! Your hard work and dedication have truly paid off.Keep reaching for the stars!